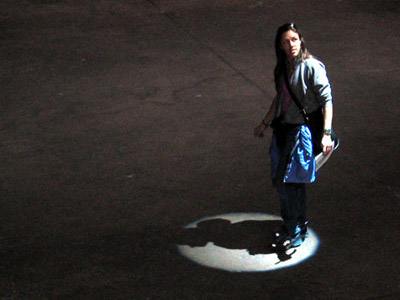 ACCESS (2002/3)
An art installation by Marie Sester Eyebeam Atelier, New York. Uncommon Projects designed, developed and oversaw the engineering solution for this award winning public art installation.

Features
Web-based contol of remote experience
Integration of remote surveillance with space-based interaction
Real-time Computer Vision
Seamless integration of previously imcompatible technologies and protocols
Coordination of non-contiguous protocols
commication from Web app> Server > Application > Hardware
Related Links:
www.accessproject.net
Ars Electronica 2003
Access at Siggraph 2003
Creative Capital
Jeff Han
ZKM 2005
Eyebeam
Artist Marie Sester enlisted Uncommon Projects to handle the solution to an ambitious interactive public installation wtih real time web surveillance and control. Uncommon oversaw the creation of the complete system architecture, from backend web application to front end interface with interactive streaming video. Uncommon also oversaw a team of talented engineers who provided precision computer vision and directional audio. From the site :
"ACCESS is a public art installation that integrates web and surveillance technologies. Using computer vision algorithms, ACCESS allows web users to select and track individuals in a public space with a robotic spotlight and acoustic beam system.Access utilizes computer vision, robotics, sound, lighting and the Internet. A web site displays a real-time video of the public space installation. Through this interface, a web-user can select a person in the real world (in the public space). This action triggers specially designed computer vision technology to move a robotic spotlight and an acoustic beam system to pursue the person, not wearing any marker, in the public space. This is the first system of this kind." (more)
Video
Siggraph 2003

Images
Spotlight aquires a target at Ars Electronica.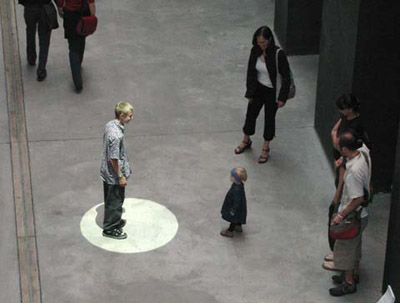 Jeff Han's interface for the computer vision tracking application.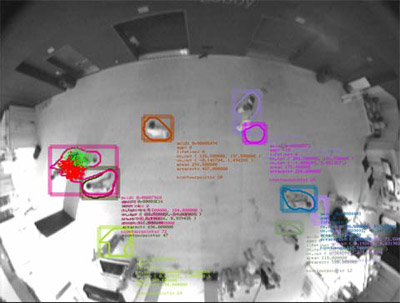 Remote interface to view and select targets.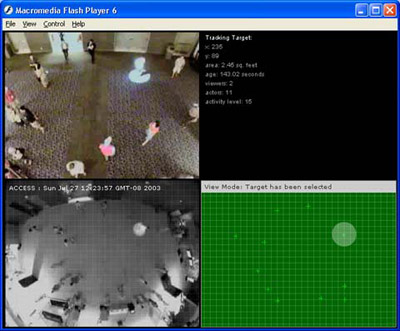 Remote interface aquires a target.