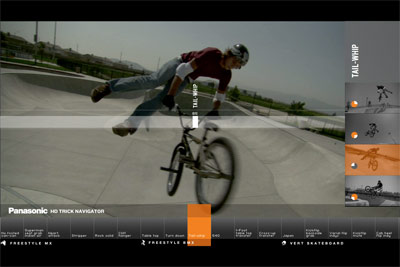 Panasonic Trick Navigator (2005)
Interactive Touch Screen Plasma experience to promote Panasonic products during the Dew Action Sports Tour.

Features:
Simple, fun, intuitive interaction
Designed for Adults, children, men and women
Four interactive plasma screens
Touch screen interface
Robust, custom application development
Browse HD Video Library of Skate, BMX, FMX tricks
Intuitively control playback, Slo-Mo, Rewind in real time
Related Links:
Official AST Site
Renegade Marketing
AST on Wikipedia
Designed for users of all ages, the Panasonic Trick Navigator let users explore a database of broadcast quality HD footage of Skate, BMX and Freestyle Motocross tricks. Users could intuitively scratch and scroll video forwards or backwards and explore every trick from multiple angles. Uncommon Projects consulted with Renegade Marketing from soup to nuts on concept, interface and interaction development as well as engineering a simple and stable hardware and software solution.
Video
Images