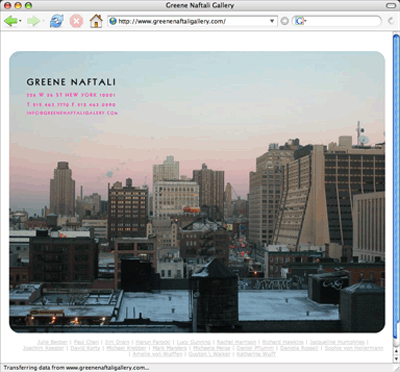 Greene Naftali Gallery (2004)
Complete redesign and Content Management System for leading New York Gallery.

Features
Striking, elegant design to compliment gallery vision
Content Management System for Acclaimed Fine Art Gallery
Database support for Artists, Artwork Images, Exhibitions, Bios and Press Releases
Every database and site element updateable through simple web interface
Easy for non-tech employees to use
Cross browser and platform support
Dynamically served data
All content optimized for search engines
Related Links:
www.greenenaftaligallery.com
Created a web based, Content Management System and database for the Greene Naftali Gallery in New York's Chelsea art district. All content on the site is modifiable through a simple, easy to use web interface. Artists, Images of artwork, exhibitions, publications, bios and press releases (in html or printable pdf) are created or modified using Uncommon's solution. The site was designed in Flash but was also created to promote easy indexing and optimization for search engines. The database contains thousands of images of the gallery's art and serves as an archive of hundreds of shows going back over ten years.
Images