Chop 10 (2005/6) from uncommon projects on Vimeo.
Chop 10 (2005/6) from uncommon projects on Vimeo.
Chop 10 (2005/6)
Related Links:
New Museum, "Airborne"
free103point9
Bushwick Art Project
Michael Luck Schneider
Chop 10, a sound installation by Uncommon co-founder Tarikh Korula, exploits the techniques of current commercial radio practice by re-mixing a live, dynamic assemblage of radio streams as a commentary on the homogeneity of regulated radio. As Chop 10 moves from one Arbitron-rated Top Ten radio station in New York City to the next, the hyper "scan" makes it impossible to discern any single station's content, resulting in a jumpy, never-ending parody of commercial radio. Chop 10 was presented in the New Museum Media Lounge as part of the group show, "Airborne". Part of the New Museum's Transmission series, Airborne was organized by Anne Barlow, Defne Ayas and media arts non-profit Free103point9. Chop 10 was made possible with help from Free103 and the Media Alliance Radio/Sound Art Fellowship. Special thanks to Michael Luck Schneider for his invaluable technical consultation. Chop 10 was also shown at the Bushwick Art Project's BAPLab 2006.
At BAP Lab (2006)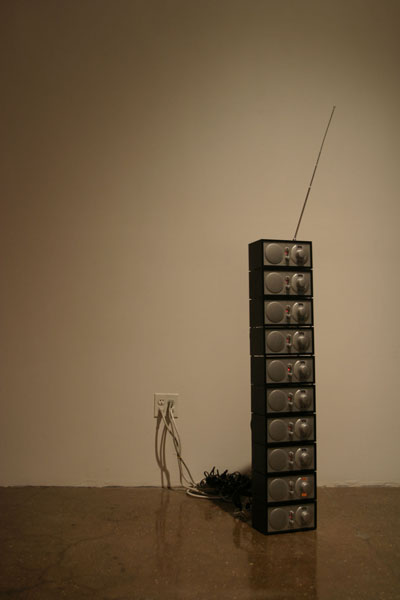 At New Museum (2005)