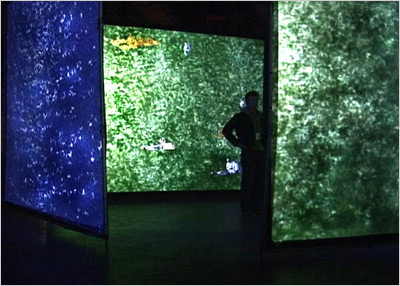 Aziz + Cucher "Synaptic Bliss" (2004)
Related Links:
www.azizcucher.net
Uncommon Projects composed, designed and mixed the 4.1 surround sound for "Synaptic Bliss: Villette", a 4 channel, 20 minute looping video and sound installation. Uncommon is as proud of its sound design work as it is of the working process with Aziz + Cucher, who fostered a fruitful, collaborative environment in which to work. Synaptic Bliss: Villette was commissioned by the Parc de la Villette, Paris, in 2004, was shown at ARCO in Madrid in February 2005 and at Eyebeam in New York in March 2005. It traveled to the Centro Multimedia in Mexico City in September 2005 and then to the Sydney College of Art, where Aziz + Cucher were artists in residence in the spring of 2006. Among their numerous awards are a Pollock-Krasner Foundation Grant (2002) and a NYFA Grant in Digital Art (2003).
Images
The installation for Synaptic Bliss featured 4 Channels of video and 4.1 Surround Sound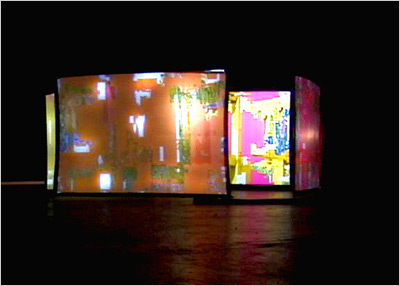 Another view of the looping 20 minute video.