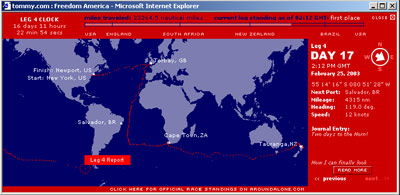 Tommy Hilfiger Freedom America (2002/3)
Dynamic, Database-driven mapping site that tracked winning entrant in the Around Alone sailing race
Features
Interactive online app to track sailing progress around the world
Browsable archive of real time journal entries
continually updated position reports
Seamless integration of previously imcompatible technologies and protocols
Related Links:
Brad Van Liew/Tommy
Organic, Inc.
Developed Organic , the Around Alone website tracked Brad Van Liew, captain of the Freedom America yacht, in his 2002-2003 entry in the Around Alone yacht race. The site recieved automated GPS postion reports and journal entries from the boat as Van Liew spent 148 days sailing the globe and ultimately winning the race. Interactive mapping data and journal entries wer served in XML from a backend database.
Images
Brad entering blog entry from boat: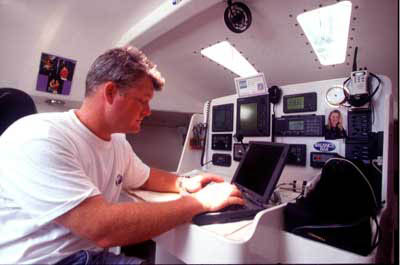 The fearless captain alone and around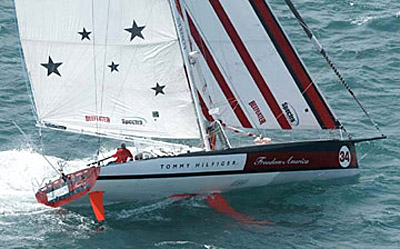 The map view plotted Brad's progress around the world: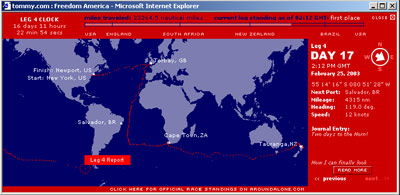 The homepage of the site showed Brad's progress at the top and his most recent blog entry: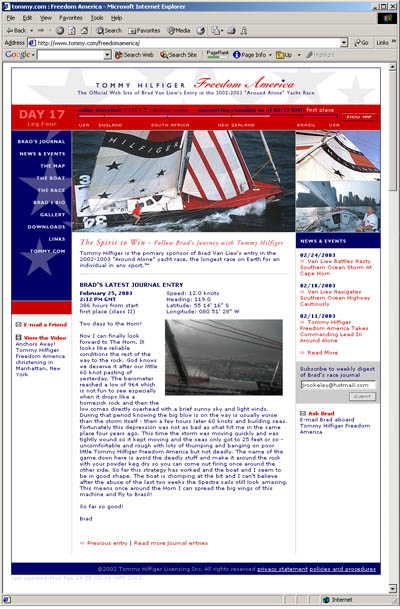 Click here for detailed screen shots.