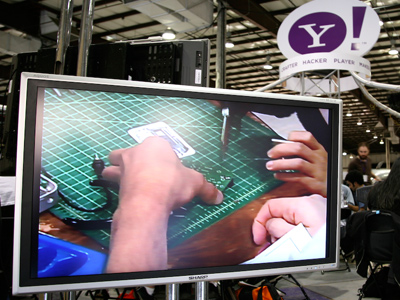 Photo: Scott Beale / Laughing Squid
Yahoo! @ Maker Faire (2007)
Yahoo! co-sponsored O'Reilly's 2nd Annual Bay Area Maker Faire, a two day family-friendly tech convention with over 40,000 attendees. The hands-on event features hundreds of backyard inventors gathering to share their projects, ideas and eye-popping creations. The Maker Faire is a celebration of the resurgence of grassroots invention that has both influenced and been inspired by the thriving tech community in Silicon Valley.
Yahoo! asked Uncommon Projects to consult and help construct a meaningful experience to engage the Maker Faire's unique audience.
Uncommon Projects created both kits and workshops built around the ybox–their invention that took 2nd place at Yahoo's first Hackday. Uncommon designed and engineered 100 custom kits for the event. Kit's were given away free in 4 intensive, hands-on workshops taught by Uncommon Projects co-founders Josh and Tarikh over two days. Men, women, girls and boys of all skill levels participated in the popular, standing room only workshops. Live video was broadcast for workshop and participants walked away with their very own, working, hand made ybox to take home and develop further. All source code and hardware specs for the project were posted on a website created just for the event and where development still continues.
The ybox is a hardware and software prototype for an ethernet enabled, web configurable, thin-client set-top box with NTSC output and was originally designed as a proof of concept for Yahoo's first Hackday.
Related Links:
Video describing the ybox
Photos from the ybox at the Maker Faire
Full Source Code, kits and Schematics
Engadget article
Make Blog
Best Overall, 2nd Place @ Hackday
Hackday.org
Images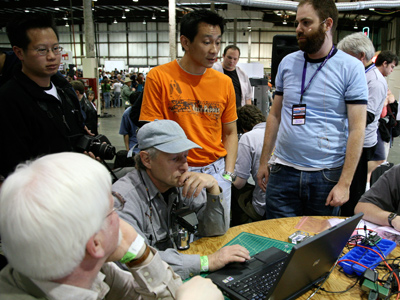 Photo: Scott Beale / Laughing Squid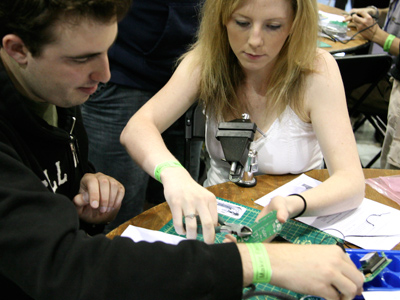 Photo: Scott Beale / Laughing Squid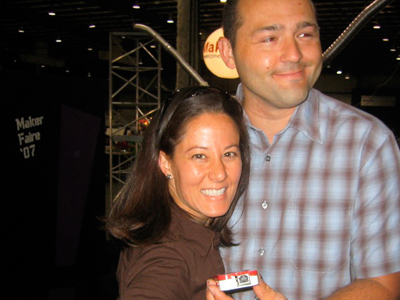 Photo: Tarikh Korula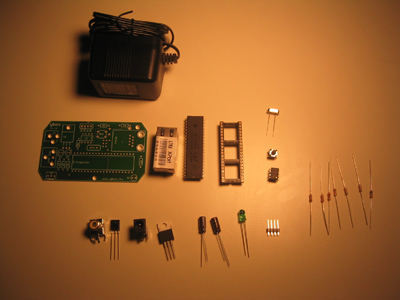 Photo: Tarikh Korula